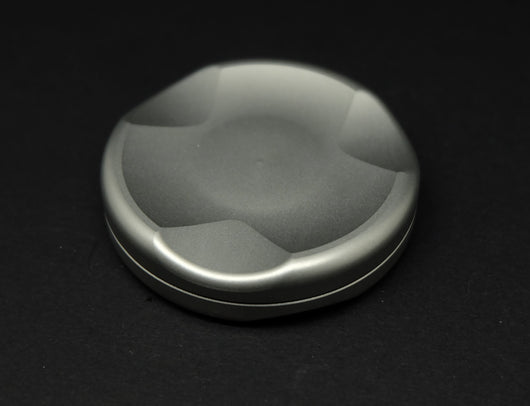 Stainless Steel RotaStone Spinning Worry Stone MK2
Regular price $129.00 Sale
Stainless Steel RotaStone spinning worry stone MK2.
These will be shipped within 2 weeks of ordering
This unique subtle fidget toy is ideal for stealth fidgeting and to keep those busy hands occupied.
Fully machined body consisting of 2 separate sides, 3 x Titanium 4-40 removable screws to replace/clean the bearing. Supplied with Ceramic hybrid bearing as used in the Stubby. Centre retaining screw will be supplied in stainless steel.
Dimensions 48mm x 48mm x 12mm fully assembled.
Please be aware these are not designed to compete on spin times with normal fidget spinners but be a rotational worry stone, they are not meant to be squeezed hard when spinning but rotated in the hand.
Please note any item bought with other items advertised as later availability will ship when all items are available.